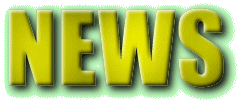 the latest news stories
Don't forget the Emulation news
14/4/01
R-Comp have a big new release scheduled in for the forthcoming Wakefield show towards the end of May. Descent 2, as its title suggests, is the sequel to true 3D maze shoot'em'up game Descent. With the Acorn conversion being handled by prolific emulator porter David McEwen (see the emulation section for countless examples of his work), a better display is promised than was provided by the PC original, with bilinear filtering and 16- and 32-bit display options. Despite being notably more complex than the original game, Descent 2 runs at around the same speed thanks to David having rewritten big chunks of the game in assembler, and it runs smoothly even at 640 by 480 on a StrongARM. The game should be playable on ARM7500 machines, and it's arguably okay on ARM710s too. These extra display options have also been added to Descent, which has now been optimised by David to run faster than the original release.
Staying on the subject of R-Comp, little has been heard of their promised Krisalis games compilation CD recently (see the database for a comprehensive list of Krisalis games). R-Comp tell me that it is taking time to obtain the necessary permissions required to release the CD. The compilation will include versions of older games modified to run on new machines and onscreen documentation as well.
In a new article here on Acorn Gaming, Sean Creech takes a light-hearted look back at the first days of Archimedes games from his point of view inside Minerva, publishers of the first ever 32-bit Acorn game, Minotaur.
Proaction have released a new version of their Superior compilation CD - see news story from January for more details. New customers or existing ones who returned their CDs should have received their replacements by now.
If you're an ex-BBC owner, or you've checked out one of the various emulators available, then you may have come across Dare Devil Denis, a simple but addictive game that mainly tests your reactions more than anything else. BeebIt author Michael Foot is developing a utility to 'convert' BBC games into 32-bit Acorn games, and the first example of this is a new version of Dare Devil Denis - pop along to his website to take a look!
9/4/01
New previews - Darklands development demo and screenshots, plus details of forthcoming Mario Party-like team game Toy Party
9/2/01
Artex Software don't seem to have much luck with finding reliable companies to publish their software! First Acorn vanished leaving them with a half-written Tek (which they have continued to develop independently), and now TopWare Interactive, their PC publishers, are closing down, leaving them with a nearly complete Iron Dignity. Given the quality of the game based on what has been seen to date, however, hopefully they shouldn't have much difficulty finding a replacement, and Artex have stated that the game will still be released - development has not been interrupted.
5/2/01
Visions of the Impossible have released some new screenshots of forthcoming racing game Eat My Dust - take a look at the preview page
Artex Software are continuing to work towards their promised Spring release later this year of 3D strategy game Iron Dignity - there are lots of new screenshots of the PC version, which will be released first, on their website, plus development films which can only be viewed on a PC. Take a look at Acorn Gaming's updated preview, which includes framegrabs from these videos.
It's not just Iron Dignity, either - Artex's other current project, Tek 1608, continues trekking on towards release hopefully later this year. Noone won the Christmas competition to guess what the 1608 suffix means, although there is a sneaky reason why! A new screenshot doesn't look much-changed from earlier ones.
Talking of Tek, VOTI and Artex are working on developing a networking system for multiplayer gaming. The intent is to develop something which is easy for programmers to use, hiding the implementation details. Initially this is just for VOTI and Artex games, but they might offer it to other RISC OS games writers in the future.
Despite the previous release of a commercial updated version of Starfighter 3000, Chris Bazley has taken the time to update and release a final version of his patch for Starfighter 3000. It now features a more user-friendly frontend with additional options, plus various tweaks to make it more reliable in use, similar to those applied to the commercial release. Other new features include better memory management and a neater internal implementation, as well as ARM code for faster startup.
Ian Macfarlane has released an updated version of his Solitaire desktop ball-jumping game with fancier graphics - available from his website (requires RISC OS 3.6 or above)
The second edition of ProAction's Superior compilation CD is now scheduled for release at the end of this month (February) - those who've already bought the first edition will receive a free update. This new CD will contain more games and fix many of the problems with the first one (see details in the story for 7/1/01). Existing owners are also due to receive a "a special program" in the next week. The updated CD will cost £32, which is £7 more than those who bought it before Christmas will have paid!
Someone has mentioned work on a new RPG project - have a look here for some pretty anime graphics. Don't expect it to ever be completed.
On the subject of non-completion, work on Worms-alike Skirmish has been on hold for some time due to a combination of personal reasons, but the game might still be released sometime this year, perhaps summer time. Maybe.
Nothing to do with Acorns, but if you ever played classic game Manic Miner and wondered where the author went, take a look at this (you'll need a PC/Mac to watch the video clips, unfortunately)
---
...this page last updated: 9/4/2001...
...back to the top...